switch
3rd-18th may 2019
placing art in unconventional spaces
switching where art happens
SWITCH is a brand-new project aiming to utilise community spaces and re-imagine them as art spaces. A collaborative idea between Writerz and Scribez, Kings College London and local artist Kay Rufai, SWITCH is a fresh take on arts projects. Commissioning a range of artists to perform across local barbershops in Tooting while researching the impact of re-purposing space it is an ambitious project aimed at reaching those that feel excluded from traditional art spaces. Proudly sponsored by Wandsworth Council and Wandsworth Art Fringe.
Photographers, artists, poets and performers are all part of this project. Recognising and celebrating the intimacy of getting your hair done, artists will be placed in London Barberhood, Clean Cuts and Trinity Barbers in Tooting. A showcase and exhibition will happen on 10th May at Fresh Ground, London from 7:30pm. Free for under 18s and £4.50 for adults. Check below for the artists we will be working with.
Russenï is an explosive poet with exceptional performance ability. He has featured widely including at the Olympic Park, Southbank and as opening act for the Last Poets at the Love Box Festival 2015. He is definitely one to watch.
Friday 10th May
Friday 17th May - Clean Cuts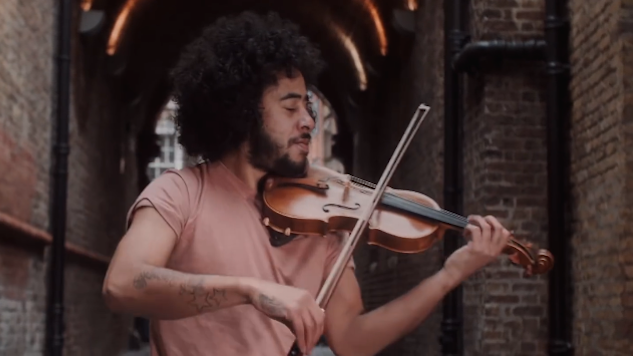 Daj Jordan has broken boundaries successfully combining his classical background with urban music culture.
He is a violin player with a difference, he is the first Hiphop violinist we have come across. Daj has uploaded covers with Bob Marley & Lauryn Hill all the way up to Rae Sremmurd bangers with his violin.
Daj takes inspiration from both hiphop and RnB and blends them seamlessly, hopefully this is the first of many, cos once the Hiphop game gets onto this he will have requests coming left right and centre.
London Barbehood 3rd May 5:30pm
Kirsty Latoya is a 26-year-old, artist from South London who specialises in digital illustration. She concentrates on important issues such as mental health through her art.
From a young age she identified art as her passion. She would always draw when armed with a piece of paper and a pencil. When her household got their first computer she'd draw for hours on Microsoft Paint. Later in life Kirsty neglected to study art because of pressure to study more 'academic' subjects. However whilst studying abroad in New York in 2012 she finally got the opportunity to take art classes. During this year long course she learnt how to paint and learnt the technicalities of art.
Kirsty taught herself digital art in December 2014 by experimenting with drawing apps and programs. Kirsty started drawing with styluses but liked the freedom of her finger more. She now paints on her iPad using her finger as a stylus.
Assumpta is a writer, poet, blogger and storyteller born in Nigeria and raised in London where she now lives with her husband. She received her LLM in Law from Coventry University and her MA in Creative and Professional Writing from Brunel University. Assumpta's work centers on love, loss and deracination.
Comissioned to write poems for this project her work will be displayed on 10th May at Fresh Ground London.
A self-taught photographer with an eye for contrast, angles and emotion, Working mostly in black and white on portraiture and street photography with a passion for capturing images of black women.
Work will be exhibited at showcase on 10th May at Fresh Ground London and Moses will be in residency at London Barberhood during the project.
Aspiring Character Designer looking for 2D Character Design work on a TV series. Currently working part time at a Charity while developing his art through online courses to reach the Industry Standard.
Other interests include playing football, singing, writing poetry, board games and anything that involves food.
Commissioned to create art that will be showcased on 10th May at Fresh Ground London.